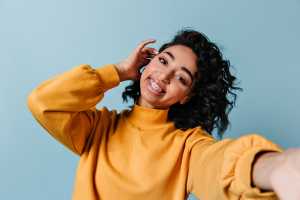 Do you have crooked teeth? Do they make you self-conscious when you smile? Are you embarrassed to show your teeth when you laugh or smile? If so, traditional braces may be a good option for you. Traditional braces are designed to straighten your teeth and improve your smile. Here at Kings Centre Dental Excellence, we offer traditional braces to help gently straighten your teeth, giving you a more confident smile.
What are the Components of Traditional Braces
For some patients, metal braces may not be the most appealing option for teeth straightening, but they are the most effective. Metal braces make up for their lack of cosmetic appeal and ability to address most bite abnormalities.
Traditional metal braces are the most common type of braces. They are made of metal brackets bonded to your teeth with a special dental adhesive. A metal wire runs through the brackets, and the wire is held in place by tiny rubber bands or ligatures. The wire applies pressure to your teeth, gradually moving them into proper positions. You will need to visit your orthodontist regularly so that they can adjust the wire and tighten the ligatures. 
Metal braces are strong and durable, and we can use them to correct a wide range of dental problems. However, they are also quite visible, so if you are looking for a more discreet option, you may want to consider clear braces or invisible aligners.
What can Metal Braces Correct?
In general, metal braces are the most versatile type of braces and can be used to correct a wide range of dental problems. Traditional metal braces are the most common type and are very effective at correcting various dental problems. They commonly correct alignment issues, such as crowding, gapping, and crossbites. We can also use metal braces to fix more complex problems, such as jaw misalignments and severe rotations. 
What are the Benefits of Traditional Metal Braces?
Traditional metal braces may be the right choice if you are looking for a reliable and affordable way to improve your smile. Plus, they provide various benefits, including:
Strong and Durable:

Traditional braces are made of high-quality metal alloys, making them strong and durable. Traditional metal braces, unlike other types of dental alignment devices, are made to last for the course of your therapy. Metal braces are resistant to those who are extremely active.

Correct a lot of Issues:

Metal braces are also very efficient at correcting dental alignment issues, and you can wear them for a shorter time than other types of braces. Metal braces offer fewer limitations than different types of braces. Invisalign aligners are unable to correct teeth that are significantly rotated or gapped. Metal braces are the most effective teeth alignment solution for various orthodontic problems because they allow us to plan the treatment and movement of each tooth individually.

Affordable:

Metal braces are also the most affordable type of braces. Metal braces are particularly advantageous to those who do not have dental insurance because of their relative price. Even if you have dental insurance, it may not cover braces or only a portion of the cost. Because traditional braces are typically the least expensive choice, many people will choose traditional braces to save money.
Metal Braces Process
The first step in getting metal braces is to schedule a consultation with an orthodontist. During the consultation, Dr. C. Benson Clark will examine your teeth and jaw to determine if metal braces are the proper treatment for you. If we recommend metal braces, we will then take an impression of your teeth to create custom brackets. The next step is to schedule an installation appointment. 
During the installation appointment, Dr. Clark will clean your teeth and apply a bonding agent to your teeth. Then, we will attach the metal brackets to your teeth using dental cement. Finally, the metal wires will be threaded through the brackets and secured. 
Metal braces usually need to be tightened every four to six weeks to continue correcting dental alignment. Most people wear metal braces for one to three years before being able to transition to a retainer or other orthodontic appliance.
Straight teeth provide numerous advantages to your dental health and appearance. Stop putting off your orthodontic treatment and begin wearing metal braces right away. If you're unhappy with your smile, call Kings Centre Dental Excellence now to schedule a consultation so we can get you on the road to the smile you've always wanted!