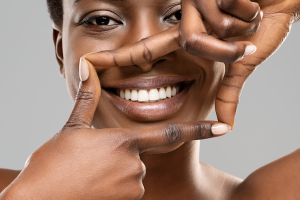 A stained or yellowed smile can affect one's appearance, but we can easily correct these issues with the help of our professional teeth whitening services. Nothing beats a whitening treatment from King Centre Dental Excellence if you want a bright, white smile. We provide in-office teeth whitening that is safe, quick, and only available from experts like us.
What is Professional In-Office Teeth Whitening
Teeth whitening done by an expert, such as our dentist Dr. Clark, is known as professional teeth whitening. You cannot purchase our professional teeth whitening system in stores.
While whitening toothpaste and drugstore kits can help keep your teeth white, professional teeth whitening will make the most significant difference in your smile. We can make your teeth many shades whiter in under an hour because we are authorized to use a more powerful peroxide.
You'll get professional outcomes because an expert administers it. As a result, unlike with an over-the-counter treatment, you will not have spotty white teeth. We will lighten any internal tooth discolorations. The lightening happens because the organic materials break down, removing stains and revealing a whiter, brighter smile.
What Causes Teeth Discoloration?
Your teeth are one of the most important features on your face, and discoloration can greatly impact your appearance. The most common cause is plaque buildup, which can yellow and discolor teeth over time. Teeth usually become discolored as we age, but there are other causes. Teeth can become stained from smoking, drinking coffee or red wine, or eating certain foods. 
Professional teeth whitening is one of the most effective ways to remove teeth discoloration. The process uses powerful bleaching agents to break up the stains and discoloration on teeth, resulting in a brighter, whiter smile. Professional teeth whitening is safe, fast, and effective, and we can do it right in our dental office in Alexandria, VA.
ZOOM! Teeth Whitening
ZOOM! Teeth Whitening (also known as Philips Zoom WhiteSpeed) is an in-office procedure that employs 25% hydrogen peroxide to remove stains and yellowing, lightening the color of your teeth by up to eight shades.
Unlike other cosmetic dentistry bleaching treatments, the procedure uses a blue light to activate the hydrogen peroxide and speed up teeth whitening. You can expect your smile to whiten by eight shades or more when visiting our dental office for ZOOM! Teeth Whitening. 
ZOOM! Teeth Whitening is the most reliable method for improving the appearance of your smile without having to endure extensive dental work. In fact, we can complete this treatment during your lunch break, ensuring that everyone has enough time to get a brighter smile.
KöR Whitening System
The KöR Whitening technology brightens your teeth using bespoke trays and in-office treatments. We use these personalized trays in conjunction with a dual-activated tri-barrel hydremide peroxide formulation and delivery method to enable you to reach your whitening goals at your convenience.
KöR is popular among patients since it lightens teeth by up to 16 shades. It works by restoring the ability of your teeth to absorb oxygen. The whitening gel's oxygen penetrates deep into the tooth, dissolving and eliminating discoloration molecules. The whitening gel, fortunately, causes little to no sensitivity. As a result, when using KöR, most patients experience no discomfort during whitening.
Benefits of Teeth Whitening
There are many benefits to both of our in-office teeth whitening treatments. You'll want to flaunt your smile once you've fallen in love with it. Other advantages of both ZOOM! Teeth Whitening and KöR Whitening include:
Teeth that are beautiful, healthy, and natural-looking.

In-office and take-home whitening trays are included in this comfortable and convenient procedure.

Long-term outcomes.

The whitening systems are a safe whitening alternative for your teeth and gums with little to no irritation.

You can whiten your teeth without giving up coffee, tea, or red wine.

An efficient way to deal with any level of discoloration.
Furthermore, professional whitening improves oral hygiene. When you have that ideal white smile you've always wanted, you'll notice that you take better care of your oral health to keep it.
Professional Teeth Whitening in Alexandria, VA
Now that you've learned everything there is to know about Kings Centre Dental Excellence's expert teeth whitening services. It's time to get a whiter smile. To schedule your teeth whitening treatment, pick up the phone and call our Alexandria cosmetic dentist immediately. When you come to our dental office, we'll go through your options with you and come up with a treatment plan that will give you the brightest, most beautiful smile possible. Schedule a teeth whitening consultation today!