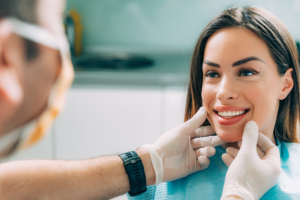 If you have stained, crooked, or damaged teeth, cosmetic dentistry can transform your smile. At King Centre Dental, C. Benson Clark and the team offer an array of cosmetic dentistry services, including dental veneers and laminates, teeth whitening, dentures, and full mouth restorations. To make an appointment at the practice in Alexandria, Virginia, call the office today or schedule online.
What is cosmetic dentistry?
Cosmetic dentistry uses whitening treatments, dental restorations, and custom oral prosthetics to improve the physical appearance of your teeth and smile. Some procedures provide the additional benefit of improved oral health. For example, by getting a dental crown, it's possible to preserve your tooth and prevent further damage or decay.
What services does cosmetic dentistry provide?
The team at King Centre Dental offers a variety of cosmetic dentistry services, including:
Dental veneers and laminates
Dental veneers and laminates are thin shells that cover oral imperfections like stains, gaps, or unusually shaped teeth.
Dental veneers last an average of 12-15* years and require the removal of a thin layer of tooth enamel. Laminates aren't as durable as veneers, but there's no pre-prep required. As a result, they're more affordable but easier to damage.
Teeth whitening
Teeth whitening uses FDA-approved solutions, like carbamide peroxide or hydrogen peroxide, to remove stains from the surface of your teeth. At King Centre Dental, the team offers in-office teeth whitening as well as take-home teeth whitening trays.
Orthodontics
Orthodontics diagnoses and treats misalignments of the teeth and jaw. Instead of using traditional metal braces, the team at King Centre Dental offers Invisalign®. Invisalign is a relatively new treatment system that provides results faster than traditional braces without metal brackets, archwires, and rubber bands.
Dental implants
Dental implants replace your tooth roots. They're small titanium posts that your dentist inserts into your jaw during an outpatient procedure. Following placement, the implants integrate with your natural bone structure, providing a base for dental restorations like crowns, bridges, or fixed dentures.
Crowns
Crowns are synthetic caps bonded to the top of a severely damaged or decaying tooth. They restore your tooth to its near-original shape and size, restoring your ability to bite and chew.
Dentures
Dentures are removable prosthetics that replace some or all of your permanent teeth. They restore your smile and significantly reduce the risk of potentially serious oral health problems, including gum recession and bone loss.
Full mouth restorations
Sometimes, a single cosmetic procedure isn't enough to improve the appearance of your smile. A full mouth restoration combines two or more techniques to help you achieve the smile you've always dreamed of.
What type of cosmetic dental treatment will benefit me?
To determine the type of cosmetic dental treatment that will benefit you most, your King Centre Dental provider conducts an oral exam and asks what you like and don't like about your smile. After gathering the necessary information and taking oral X-rays, they design a custom treatment plan to meet your needs.
To learn more about the benefits of cosmetic dentistry, make an appointment at King Centre Dental by calling the office today or scheduling online.
*Individual results may vary.