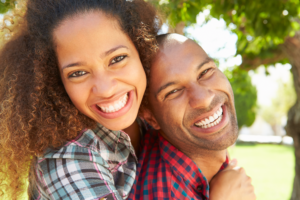 If you have damaged or missing permanent teeth, our restorative dentistry in Alexandria can reduce the risk of other complications while making daily activities like biting and chewing easier. At King Centre Dental, Dr. Benson Clark and the team offer several types of dental restorations, including crowns, dental implants, dentures, root canal therapy, and veneers. To make an appointment at the practice in Alexandria, Virginia, call the office today or schedule online.
What is Dental Restoration?
Dental restoration uses custom oral prosthetics and specialized tools to rehabilitate your smile and oral health. By repairing and replacing damaged and missing teeth, it's possible to minimize the risk of potentially serious issues like gum recession, bone loss, and deep decay.
What are some common types of dental restoration?
At King Centre Dental, the team offers various dental restoration techniques, including:
Our dental crowns in Alexandria, Virginia, envelop a severely damaged or decaying tooth. They're synthetic caps made of ceramic or porcelain that restore your tooth to its near-original size and appearance. With good oral hygiene and routine checkups, crowns often last between 12 and 15 years.
First, we'll remove any damaged or decayed material to prep your tooth. Next, we'll create an impression of your tooth and send it to the lab where your custom crown will be crafted. In the meantime, we'll fit you with a temporary crown to protect your tooth. Once your permanent crown is ready, we'll remove the temporary one and place the new crown carefully and securely in your mouth. Finally, we'll ensure you're comfortable with your new crown and give you instructions for proper care and maintenance. Trust us to make your dental crown placement smooth and stress-free.
Dental implants are small metal posts that replace your tooth roots. Once the integration process is complete, implants provide a base for crowns, bridges, or fixed dentures.
Dental implant placement can seem overwhelming, but our King Centre Dental team is dedicated to making it as smooth and comfortable as possible. The first step is a thorough examination to determine if implants are the right option for you. Once confirmed, we will use advanced technology to plan the exact placement of your implants. The surgery itself is a quick procedure that involves placing small titanium posts into your jawbone. Over time, these posts fuse with your bone to create a strong and stable foundation. Finally, we will attach custom-made prosthetic teeth that blend seamlessly with your natural smile. Our team is committed to providing exceptional care throughout every step of the process, and our patients appreciate the results that last a lifetime.
Bridges fill a gap in your smile caused by one (or several) missing teeth. The team at King Centre Dental offers several types of bridges, including Maryland, cantilever, traditional, and implant-supported.
Dentures are removable prosthetics that replace some or all of your teeth. They make it easy to perform routine tasks like biting and chewing and make your smile and facial structure more aesthetically pleasing.
Veneers are custom restorations that cover minor oral imperfections like stains, gaps, or smaller-than-average teeth. They're bonded to the front of your natural teeth and last an average of 12-15 years.
You might benefit from root canal therapy if you experience a deep cavity or severely damage a tooth. A root canal is a restorative procedure that removes inflamed or infected pulp from the center of your tooth. That stops the pain, limits the infection from spreading, and preserves your permanent tooth.
What Type of Dental Restoration Will Benefit Me?
To determine the type of dental restoration that will benefit you most, your King Centre Dental provider conducts an oral exam and takes a series of oral X-rays. After assessing your oral health and asking about your goals, they design a custom treatment plan that aligns with your budget and needs.
Restorative Dentistry in Alexandria, Virginia
To improve your oral health with dental restoration, make an appointment at King Centre Dental by calling the office today or scheduling online.