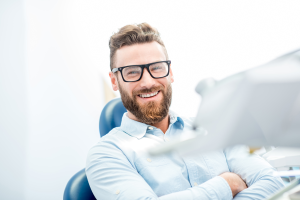 Do you ever hide your smile because of the condition of your teeth? Whether your teeth have been damaged in an accident or suffer from tooth decay, you should get treatment at King Centre Dental Excellence. Dental crowns may be a suitable alternative if your teeth are in a state where we can still fix them!
Every year, an estimated 3.2 million people require a dental crown. Dental crowns can be beneficial to your oral health if you are one of the 120 million people in the United States missing at least one tooth. While dental crowns may not be able to solve all of your dental problems, they can help protect your smile and the integrity of your teeth.
What are Dental Crowns?
A crown is a dental restoration that we use to restore a tooth that has been severely decayed or damaged. Here at Kings Centre Dental Excellence, we use dental crowns for both cosmetic and restorative purposes, and each one is created to fit your smile perfectly. Dental crowns are essentially a protective cap that fits over your damaged teeth. They go all the way to the gum line to protect your teeth. Their job is to keep your teeth safe, covered, and in working order.
Why do I Need a Dental Crown?
Crowns are pretty adaptable, and we can use them for various reasons. Dr. C. Benson Clark may recommend a dental crown:
Following root canal therapy, you should protect a tooth.

To restore a tooth that has been severely decaying or damaged.

To cover a dental implant.

To strengthen a tooth that has been broken or is weakened.

To attach a dental bridge.

If we can improve a malformed tooth's look and functionality.

To support an extensive filling when there is minimal remaining dental structure.

To enhance the appearance of severely discolored or stained teeth.
What are the Benefits of Dental Crowns?
You will have a bright, healthy smile when we repair or replace teeth with porcelain crowns. However, there are many more benefits of dental crowns.
Dental crowns can improve your oral health: We often use dental crowns to protect a tooth that has been damaged by decay or injury, and we can also use them to support dental bridges or dental implants. 

Dental crowns can improve your appearance: Dental crowns are often used to improve the appearance of teeth that are misshapen, discolored, or chipped. Porcelain crowns are the most popular type of dental crown because they provide a natural-looking finish. Ceramic crowns are also a popular choice because they are less likely to cause allergic reactions than metal crowns. In addition, we can match ceramic crowns to the color of your natural teeth. Ask Dr. C. Benson Clark which crown is right for you!

Dental crowns are durable and long-lasting: While dental crowns are designed to last for many years, they will eventually need to be replaced. The lifespan of a dental crown depends on several factors, including the type of materials used and the amount of wear and tear it experiences. However, with proper care, most dental crowns can last for eight to ten years.

Dental crowns are affordable and convenient: The cost of dental crowns varies depending on the type of dental crown and the dentist. Metal dental crowns are the least expensive, while porcelain dental crowns are more expensive. However, dental crowns are a convenient way to restore a damaged tooth. Once placed, they will last for many years with proper care. And, unlike other dental restorations, dental crowns don't require special care or cleaning solutions. Brush and floss as you usually would.
Dental Implant Procedure
Many people are concerned that receiving dental crowns will be difficult and painful. Fortunately, this procedure is very straightforward! First, we will clean your tooth and prepare the enamel. Dr. Clark will remove the tooth's damaged portions. He will shape the tooth for the cap to properly lock on. For the casting of your dental crown, we will create a mold of your teeth. The crown takes around two weeks to complete. We will give you a temporary crown until then. Once your crown arrives, we will set your crown in place, and you'll be good to go!
It would be best if you repaired a visible chip, crack, or cavity right away, and we can easily do this for you with a dental crown. To book a consultation, call our office now.