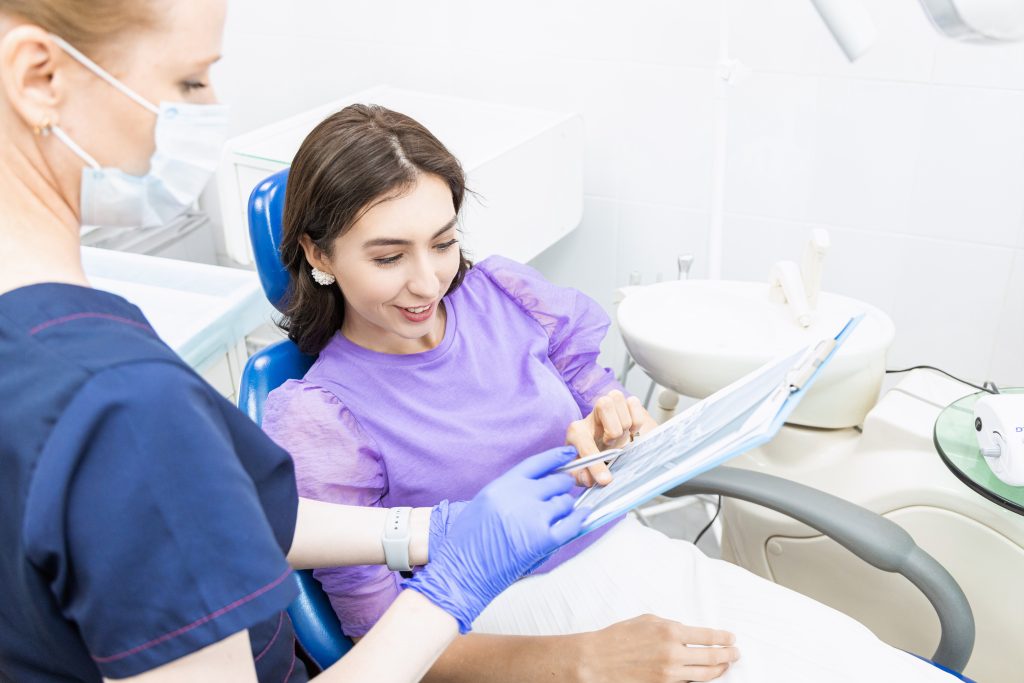 Dental exams offer a convenient, effective way for everyone to monitor their dental health. Regular exams check for potential threats, deep-clean your teeth, and send you home with a sparkling smile. At King Centre Dental, we operate on a patient-centric system that always puts you first. As a result, we offer the best dental exams in Alexandria, VA.
What are Dental Exams?
Dental exams, also known as dental checkups or oral exams, are biannual appointments with your dentist. Your teeth will be X-rayed, cleaned, and examined during the exam. We recommend that children begin to attend dental exams as soon as the first tooth appears. Dental exams are essential in preventative dental care- identifying early signs of infection and treating it accordingly. We'll keep track of your dental records, locate cavities, and give dental tips throughout the process. 
How Does a Dental Exam Work? 
Typically, there are six steps for each successful dental exam: 
Dental Examination.

A hygienist will use a small mirror to look near the back of your mouth and check your gums and teeth for any red flags. Sometimes, we'll use an X-ray to examine teeth and jawbone structures. While X-rays may not happen every checkup, they are essential in determining your teeth's health. 
Tartar and Plaque Removal.

We'll always leave your teeth better than how we found them! Our hygienist will use a scaler to remove plaque and tartar. Scraping will prevent cavities and keep your breath fresh. 
Teeth Polishing.

Choose your favorite flavor of gritty toothpaste, and we'll polish your teeth. Your teeth will be left shiny, smooth, and clean. 
Expert Flossing.

We'll remove stubborn plaque and built-up debris that might have otherwise caused cavities and decay. Whether you floss at home or not, it's crucial to a healthy oral ecosystem. 
Fluoride.

We'll top off your teeth with fluoride treatment, which strengthens your teeth's enamel and increase their resistance to acid. 
Final Examination. Once we finish the cleaning, we'll send Dr. Benson Clark for his final approval. He'll go over your X-rays, dental history, and tooth alignment. Once he gives you the thumb up, you're good to go. 
Benefits of Dental Exams:
There are many considerable benefits from regular dental exams: 
Treat Gum Disease Early.

Over 46% of all American adults 30 years and older suffer from gum disease. Also known as periodontitis, gum disease is both preventable and curable. We can identify early signs of gum disease and eliminate the root causes early. 

Improve Breath.

Having a pleasant breath is hard when your mouth is full of cavities, infections, and inflammations. Let us clean your teeth and remove all traces of foul breath. 

Whiter Teeth.

We remove plaque and polish your teeth with fluoride. With our specialized cleaning, we whiten and freshen up your smile. 

X-Rays and Examinations.

We use X-rays and mirrors to examine every part of your mouth. We can use this vital information to treat issues early on and prevent further problems. 
Why are Dental Exams Important? 
Dental exams are important because your teeth are essential. Even if your teeth aren't noticeably hurting, there could still be infection, cavity, and oral cancer. We use X-rays and other modern technology to locate and treat issues early. Checkups save you money, time, and energy in the long run. Dental exams are crucial for children whose teeth are still developing and need additional care. 
Dental Exams in Alexandria, VA
If you haven't already, it's time to set up your next dental exam. Not only can you sleep well knowing that your teeth are safe, but you keep your smile in pristine condition. Dr. Benson Clark and our team are excited to help you maintain a clean, bright, and polished smile. Schedule an appointment today to get started.